The Club La Santa on Lanzarote is the optimal training place for all athletes. More than 80 different kinds of sports are available for its visitors. There are altogether three Olympic pools, each with eight 50 m lanes. Besides that,  bicycles, gyms and a 'track and field'- stadium are offered at Club La Santa. The swimming training can therefore be supplemented by varied and alternative athletic trainings. The recently completed buildings, as well as the newly renovated accommodations offer guests the perfect place to relax in between or after workouts. The conditions are ideal at Club La Santa due to the year-round stable and warm climate.
OUR PROFESSIONAL TRAINER.
LEARN FROM OUR PRO'S.

Program.
The training:
takes place in a heated 50-m-outdoor-pool with eight lanes. The pool is equipped with state-of-the-art starting blocks.
The training schedule:
takes place twice a day; in the morning (9.00 a.m. – 11.00 a.m.) and  two hours in the afternoon (15.00 p.m. – 17.00 p.m.). There is a rhythm of 2-2-1 planned.
The dry land training:
(3 h a day) will be adjusted to the course timetables of Club La Santa and will be determined on site. Both weight training and 'sports and games' will be included in the programme.
Required tools:
For the training in the pool, boards / Fins (Flippers) / Pull kick / Snorkel / Hand and finger paddles are required (do not forget these!!!).
Please take suitable outfits with you for the dry land training.
Are you interested in the 'International Swim Camp'? For further questions, regarding costs (etc.), please contact us via the following email address:
High Performance Center
based in Wiesbaden – Germany 🇩🇪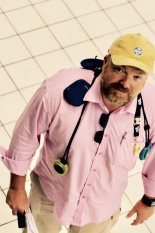 About us!
The purpose of the High Performance Centre is to bring swimming – one of the most beautiful sports in the world – closer to children, youngsters and Master-swimmers. With the help of highly qualified guest coaches we will show what can be reached in swimming if one sets goals in life, is organized and disciplined. And the health benefits of swimming cannot be forgotten. Athletes live healthier, are more pleased with their lives and lead a more efficient lifestyle.
I, myself, had the opportunity to get to know swimming as a defining and thrilling experience in my youth with its wins and losses. I want to pass these beautiful moments on to the next generation.
Oliver Großmann
NEXT CAMPS.
2020:
3. – 14. January – Club La Santa – Spain (Youth)
28. February – 6. March – Club La Santa  –  Spain (Masters)
6. – 13. March – Club La Santa – Spain (Masters)
6. – 11. July – Wiesbaden – Germany (Kids)
28. – 30. December – Wiesbaden – Germany (Masters)